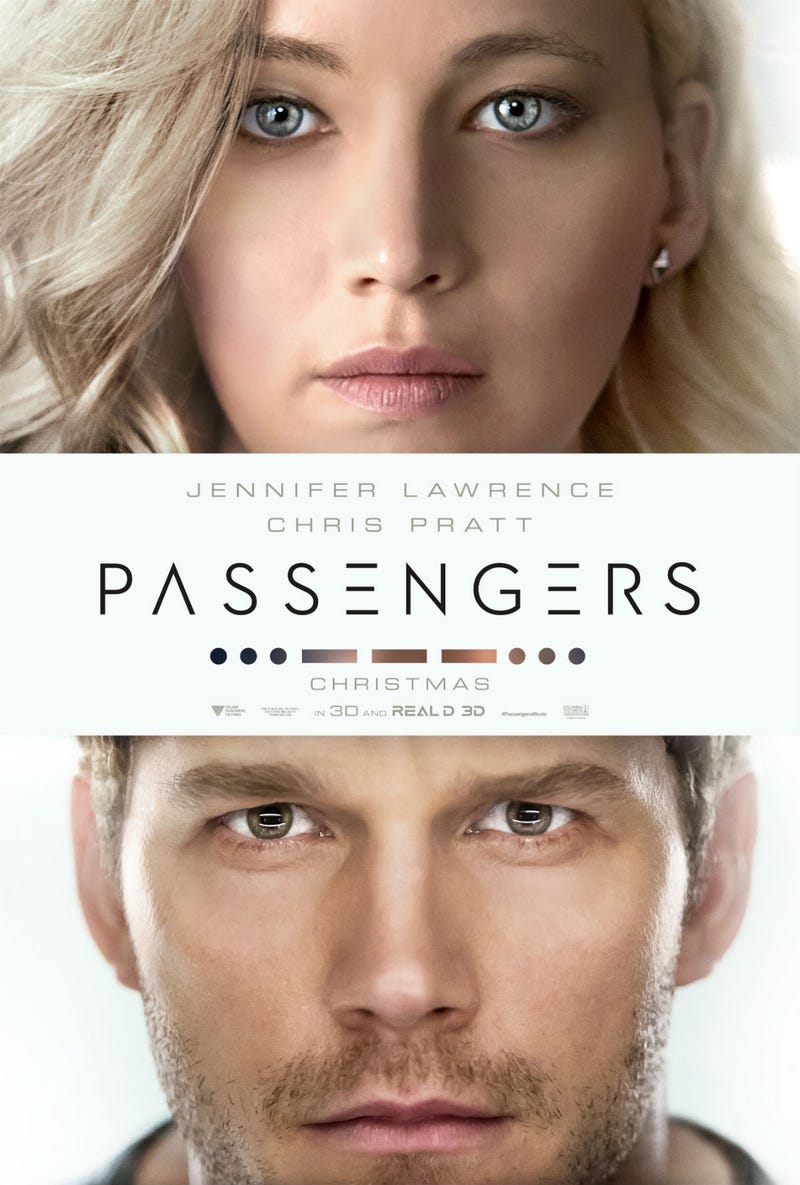 Two strangers alone on a spaceship. Make that Chris Pratt and Jennifer Lawrence alone on a space ship. Sounds intriguing right? I mean I would want to see that movie. Passengers has all the ingredients for a solid movie. An interesting premise, cool sets and effects, two of the hottest actors in Hollywood. All it really needed was a well crafted story. What a story it lacks though.
On a spacecraft transporting thousands of people to a distant colony planet, two passengers (Chris Pratt and Jennifer Lawrence) wake up from induced hibernation 90 years too early.
Okay just read that premise. Again does it not sound interesting? That is the movie the trailers were advertising. That is the movie that I went in thinking I would see. Sadly it is not. Here is my main issue with Passengers and what I gather has been many people's: Passengers is misleading. It really is. However I am going to refrain from giving anything away. The film was marketed in a way that was not fair to its actual material and to the people paying money to see it, and I personally found that frustrating. It also makes it very hard to overlook the true premise, which is a little more difficult to accept.
Not only was the film misleading, but the story itself was pretty lackluster once you get past the revelations not given away in the promos. The film felt sort of like Titanic, Gravity, and a bit of The Martian all rolled up into one. The action was severely anticlimactic and the character development poor. Good chunks of the movie were solely devoted to showing off how hot the main actors are. It only goes to show my theory that if one of the two characters was not as attractive, then none of the events in the film would have happened. It all felt vain at times and I found myself with many questions at the end.
All this is not to say there are no positive aspects of Passengers because there are! Chris Pratt and Jennifer Lawrence's performances were great, as was their chemistry. They were not given the best material to work with though. Michael Sheen was actually a bright standout in the film as the robot bartender Arthur. His character was charming and his performance was simply refreshing. The costumes and sets had a nice aesthetic to them and while more could have been done with the visual effects, I found them overall satisfying.
To put it simply, Passengers made me frustrated. Not only was I upset with how the story developed but I also felt that there was so much missed opportunity with the film. Again all the key ingredients were there. It just needed a better story. That being said, I enjoyed Chris Pratt and Jennifer Lawrence in the film. While I might not recommend seeing Passengers in theaters, I feel like some may still enjoy watching the film.
ALL IN ALL: Even with great chemistry from its two leads, Passengers still comes up short with a misleading and lackluster story.
Also, introducing our new ticket stub rating system (thanks Aimee J)!
PASSENGERS 2.5/5 Ticket Stubs